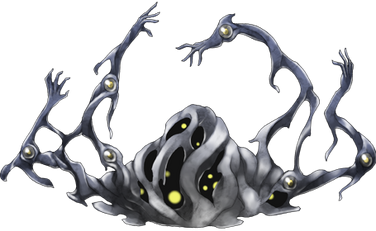 Abhoth, the Source of Uncleanliness, resides in the cavern of Y'quaa beneath Mount Voormithadreth. It is a horrid, dark gray protean mass and is said to be the ultimate source of all miscreation and abomination.

Obscene monsters constantly form in Abhoth's gray mass and crawl away from their parent. No two of Abhoth's children are alike. In general, they are complex life forms, but the majority of them are simple-minded, acting on impulse. Their forms can be anything from amorphous blobs and singular body parts, to queer humanoids and monstrous mutants.
Abhoth's tentacles and limbs grab many of them, pulling them back and devouring them. Most of those that escape simply wander off, only a few of them tend to their sire's needs. Abhoth has a twisted and cynical mind, and can communicate telepathically with others near him.